The Empress's Feet
a monodrama for solo unaccompanied voice
1995 (revised 1997)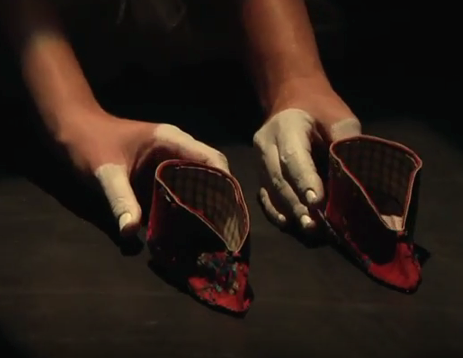 Image credit: close up from Michal Grover-Friedlander's revival of The Empress's Feet for Ta Opera Zuta for the Tmuna Festival in 2014.
The Empress's Feet is based on a Chinese Fairy Tale of the same name. In the fairy tale, an imaginary time is remembered, when to have large feet is, for a woman, desirable. The Empress has the biggest feet of all, and is apparently happy, though troubled by a sleepwalking habit. If a large-footed woman sleepwalks, perhaps it is because she needs to get out more during the day. The Emperor's solution in the fairy tale is to cut her feet down to size through surgery. But then the Empress is sad. Why? Because she's in pain, horribly mutilated by her own husband? Because she can no longer walk? No – because now that her feet are small, they are no longer beautiful. But there's a solution to that too – The Emperor declares that, from now on, only small feet will be considered beautiful. The new smallness of the Empress's feet ushers in an era of foot binding. Beneath the bright shellac of the original telling of the story, lies inherent violence and hypocrisy, with all the complexities of gendered relationships and power.
In this version the story is told by a female court singer, who additionally plays both the Empress and the Emperor. Characters emerge gradually with different vocalities and melodic material. The Singer: simple lines, somewhat broken, as the elements of the dream come to her in fractured images. The Empress: a character in an impossible situation, a voice of jagged extremes and heightened artificiality. The Emperor: a man of few words, suave, almost a crooner.
The splitting off the performer into multiple characters, the split between what is said and what actually happens, the split made by the surgeon's knife – these fragmentations bespeak layers of violence and concealment.
The Empress's Feet was commissioned by Linda Hirst in 1995 with funds from the Arts Council of Great Britain, and premièred in Dartington Great Hall on 21st August of that year. Linda Hirst has performed it regularly since then, most recently in Trier, Germany in November 2016. This work may be performed as a concert piece or be fully staged.
In 2012 The Empress's Feet was mounted for a two day puppetry and opera conference co-produced by the Barbican and The Puppet Centre. This new version was performed by multiple singers / puppeteers in a production devised by Joni-Rae Carrack
In 2014 The Empress's Feet was revived by Ta Opera Zuta for the Tmuna Festival at the Tmuna Theatre in Tel Aviv, in a new and highly imaginative production directed by Michal Grover-Friedlander. Grover-Friedlander has now written about this work in her recent book Staging Voice (2022) for Routledge.