Aurora Josephson – photo taken by Ian Winters
Night Edge is a chamber piece with music theatre overtones. It can be performed for voice, flute and prepared piano (Night Edge I) or for voice, flute, violin, cello, and prepared piano (Night Edge II). There is an optional part for dancer in both versions, where a possibility for a more theatrical presentation exists.
Night Edge explores the fluid boundaries between life and death. It is based around a short poem by the Medieval Japanese poet Izumi Shikibu. (I have another piece, The Abitrariness of Language, for solo piano, also based on this poem). In the poem, said to have been written on the poet's death bed, the poet speaks of going through darkness, to darkness. She invokes the moon to shine from afar on her path. This sense of loneliness, separation, unknowing is something I tried to capture in the music.
I was also captured by the sound of the language in the phonetic Japanese version*:
kuraki yori (from the darkness)
kuraki michi ni zu (I must follow)
irinu beki (into a dark path)
haruka ne terase (shine afar)
yama no ha no tsuki (moon on the edge of the mountains)
I made a 'lexicon' of sounds for each syllable for the instruments, and for the singer, I fragmented the text into small units of consonants and vowels. The score, mostly in graphic notations, provides materials for a structured improvisation between the players. I am indebted for the development of the vocabulary for this work to the original performers of Night Edge I: Myra Melford (prepared piano); Aurora Josephson (voice) and Heather Frasch (flute).
* as published in The Ink Dark Moon Love Poems by Ono no Komachi and Izumi Shikibu, Women of the Ancient Court of Japan. Vintage, 1986, translated here by Marié Abé.
Contact the composer for performance materials.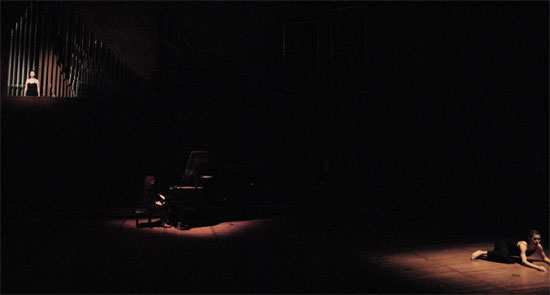 Left to right: paige starling sorvillo, Myra Melford, Aurora Josephson. Photo by Ian Winters.